---
待ちにし
つもる雪の
身のうちふるる
恋の寒さかな
Translation
More than the depth Of snow that I awaited,
Building up, accumulating, Is the chill of love
That falls within me.
---
The piece speaks of the deepening chill of unrequited love. Now the subject is a bit chilling, but the implicit meaning is what stood out to me. The discipline in the waiting and enduring through the emotional coldness. (But no means no people)
This 31-syllable is what is known as a Waka.
---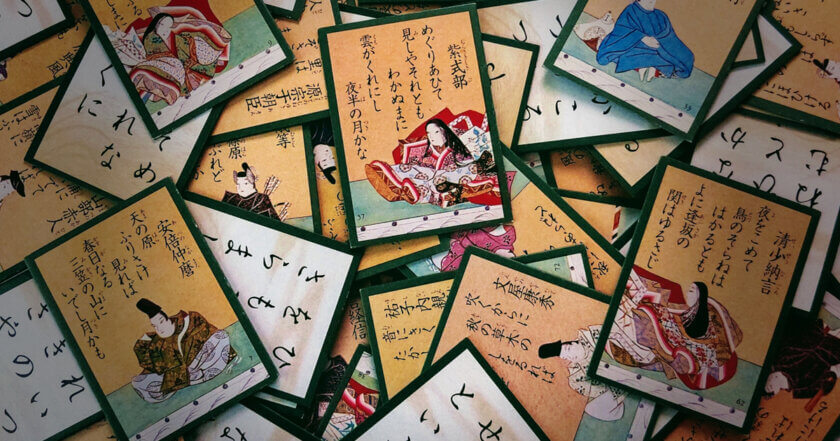 Before the Haiku, there was Waka, and one of the most famous poets of that art form (and the writer of the piece above) is Fujiwara no Teika. I stumbled upon him by coming across the "karuta" game. The game is played by one reading out a poem, while the other players must quickly identify the corresponding picture or character. How did this game come to be?
---
Well, Teika (1162 – 1241), went on a quest of composing a poem a day for 100 days. Now truth be told, he didn't compose all the poems himself, some were collected from different poets across different periods in Japanese history, and what he did was known as "hyakunin isshu" which became one of the most revered poetry anthologies in Japan and is still celebrated today. Now it's used in a popular card game which I mentioned earlier (karuta), especially around the New Year.
---
If we take an example, of a recent artist who took on the mantle of a 100-day project, a great example is Elle Luna. She decided to paint for 100 days straight and documented her progress on Instagram
---
Now, why am I talking about those individuals who went on a 100-day journey? Well,
It was 104 days ago when I launched my Generative art daily website. The goal was to develop the skills of creative coding by doing daily sketches. It doesn't matter how simple or complex they are, the objective:
1 sketch a day.
---
It's been 100 days since that decision and well, 101 sketches later and I still feel clueless and a bit lost. Did I imagine I'd be a coding genius like Daniel Shiffman, yes. Did I turn out to be just that, god no, if a sketch runs I'm happy. However, I noticed it other skills developing.
---
My appetite for challenges increased. I started getting better at problem-solving at work. My debugging skills improved. And did I mention patience? Because that was a major improvement. Also, it brought back some love for code again, at a time when I felt burnt out and tired.
---
As the saying goes your habits become you, and that's true in a sense. So how can we develop a habit?
---
As the book "The Power of Habit" states, before a habit is developed, it goes through 3 steps. These steps are what are known as the habit loop.
A trigger or cue
routine or action
and the result or reward.
---
So based on the skill you want to develop, figure out how the habit loop can be incorporated into it.
---
Now, when I did this, I wasn't aware of this, but luckily my subconscious did. So whenever I open my laptop (the trigger) the first thing I do is make a sketch (routine) and when I complete it, I get a functioning sketch(the result). I believe this routine really helped me stick to it and make a habit of it.
---
Which brings me to my next point. Writing. I've been finding it hard to write or come up with ideas (and note that this is the second post since I decided to become a writer… and I'm already lost, and struggling)
---
This generative art practice made me realize, that for it to come easily, I need to write and write daily. That thought alone is anxiety-inducing, but it's the truth of the matter if I want to get better.
---
I think of Seth Godin and his blog where he writes a post every day. It's astonishing and inspiring. Maybe because I keep thinking that everything I write must be profound and valuable which in turn, causes one to get hung up on the idea and just not do it all together. However, what if this place would be a safe space, a digital journal of the sort? This way I'd remove any pressure and just focus on the body of work, which also hopefully will document the improvement over time.
---
I was listening to Tim Ferriss's podcast, and he said something along the lines of how his newsletter 5-bullet Friday turned into a digital diary.
---
So here's to all the digital diaries out there, one more member will join your ranks.